New Release and Review: Fatal Fairies (Renaissance Faire Mystery #8)
by Joyce and Jim Lavene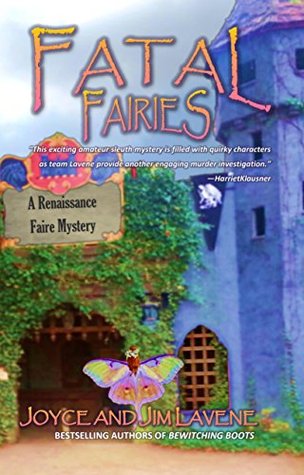 Title:

Fatal Fairies
Author: Joyce and Jim Lavene
Genre: Mystery
Series: Renaissance Faire Mystery book #8



Synopsis
When a fairy named Apple Blossom is found dead in the Good Luck Fountain at Renaissance Faire Village, Jessie Morton makes a wish she lives to regret--that her husband, Chase Manhattan, is no longer the Village Bailiff. She doesn't want him to look for the fairy's killer and ruin their plans to go away for their first wedding anniversary.

Trapped in a timeless 'It's a Wonderful Life' experience, Jessie is transported to a different Village to face the consequences of her wish where Chase isn't the Bailiff, and he's not married to her.

Jessie's fairy godmother who granted the wish tells her that she must find a way to make Chase fall in love with her again, and they must discover who killed Apple Blossom, if she ever wants to go back to the life she knew.
My Review
Fatal Fairies
by
Joyce Lavene
My rating:
4 of 5 stars
I started the book this morning and finished just now, it's afternoon now. I really enjoyed the book. And I liked the idea. It was cool. I was a little confused in the beginning as I've not read the previous books in the series. so I was confused with the setting of the story. When I started I thought it to be historical book. As the series name Renaissance time and then the modern gadgets threw me off. But after that I came to know that the village is an amusement park with renaissance theme. That is really cool! I enjoyed it with a kind of Cinderella touch to the story. A good and enjoyable read and it have gotten me out my reader's slump! I'm excited to read book! (in general) Have to read other books in the series!
Got and advanced reader copy in exchange of an honest review.
View all my reviews
Get the book on following site.


I liked the book and the concept of it. And the sixth book
Murderous Matrimony is free. so grab it here.
About the Authors

Author Links: