Review and Giveaway: The Last Gatekeeper by Katy Haye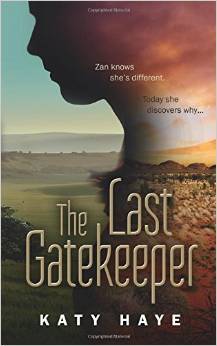 Title:

The Last Gatekeeper
Author: Katy Haye
Genre: Fantasy



Synopsis
Zan knows she's different. Today she discovers why...

Zanzibar MacKenzie knows she's a freak. She has EHS – electrical hypersensitivity – which leaves her trying to live a Stone Age life in the twenty-first century: no internet, no phone, no point really. Then Thanriel knocks on her door and the dull summer holiday becomes maybe too exciting. Zan discovers fairies and angels are real beings from other planets, she herself is half alien, and the future of life on Earth rests on her shoulders.
My Review
The Last Gatekeeper
by
Katy Haye
My rating:
3 of 5 stars
I liked the book. I liked the plot line of the story. I just couldn't connect with the main character Zanzibar, so I didn't feel her, like it felt she was to good to be true. The first half was okay. The romance between Thanriel and Zan felt like it was fast but I guess it may be because I didn't connect to the main character. But the story got more interesting when Cal and her crossed to Fane. It got more interesting and liked how it ended. And it seems there may be more books in the series which I would like to read cuz I do want to know what is life after saving the world. A one time read for me though.
View all my reviews
Katy Haye spends as much time as possible in either her own or someone else's imaginary worlds. She has a fearsome green tea habit, a partiality for dark chocolate brazils and a fascination with the science of storytelling.
When not lost in a good book, Katy may be found on her allotment growing veg and keeping hens in order

to maximise her chances of survival in the event of a zombie apocalypse or similar catastrophe (you never know!).
Connect on
1 signed paperback copy of the book. Open internationally